Unique game-based simulation
The Floor is a high-fidelity recreation of a typical emergency department that simulates everyday challenges and emergencies. It can also be used for major incident training. The game was invented by an Emergency Medicine consultant to make training more engaging and relevant.
The simulation creates a safe space for staff to explore the complexities of working in an emergency department. It encourages communication, collaboration, decision-making and situational awareness. It is intense, enjoyable and effective.
"All operational staff should play this. It's a rollercoaster!"


Dame Marianne Griffiths, University Hospitals Sussex NHS Foundation Trust.
A&E staff practise with 'crisis' board game. BBC News, 26 February 2020.
How does it work?
It is a cost-effective training resource that any senior member of staff can manage without external support or accreditation. Training happens in the workplace and sessions last 90 minutes for up to 12 participants.
The game includes a wide range of realistic scenarios and events making it a very flexible and adaptive training tool for all staff, managers and students. You can also create your own scenarios based on local incidents to disseminate learning to staff.

"An excellent way of practising decision-making skills in a fun and approachable way. It should be available as a resource for all EM staff"


David Bentley, ACCS CT3 Emergency Medicine.
How will it help us?
Here are some of the issues a facilitator can highlight and address during a game:
Multi-professional education
Reflective learning & debrief
Situational awareness
Safe staffing & resource allocation
Workflow and acuity
MDT collaboration and communication
Clinical decision-making
New guidelines and pathways
How is THE FLOOR being used?
The game has now been played with a range of ED healthcare professionals – senior house officers, foundation doctors, registrars, (SpRs), consultants, nurses, health care assistants, (HCA), and management teams. It has been played and tested in a range of organisations and settings in the UK, USA and Myanmar. The Floor is used routinely at BSUH during Major Incident training days for ED nurses, HCAs; and is formally part of the teaching and training programme for junior doctors of all grades.
What's in the box?
"I am a first-year medical student. I thought that the game was a brilliant simulation of the stresses that we face in A&E on a day to day basis, whilst at the same time being really enjoyable to play. It was also a great team-building exercise."


Zac Lanza, 1st year Medical Student and HCA, Leeds University.
The cost: for unlimited group ED simulation training
Standard Price for 1 game:
£900 (plus VAT and delivery)
The Floor is a sophisticated group training tool designed to help improve performance and safety. The game includes a wide range of scenarios, events and patient profiles. Making The Floor a very flexible and adaptive training resource for all ED staff and managers.
If you only use the game once with 12 people = £75 per person for 90 minutes of training.
But, you can use The Floor as often as you want. Every time you play the cost is diluted. At Brighton and Sussex University Hospitals they've used their game 10 times this year with over 100 staff members. The cost is now:
Less than £10 per person for 90 minutes of training.
The training happens in the workplace, so disruption is minimised. No external support is required so there are no hidden costs. How does this compare to other forms of training?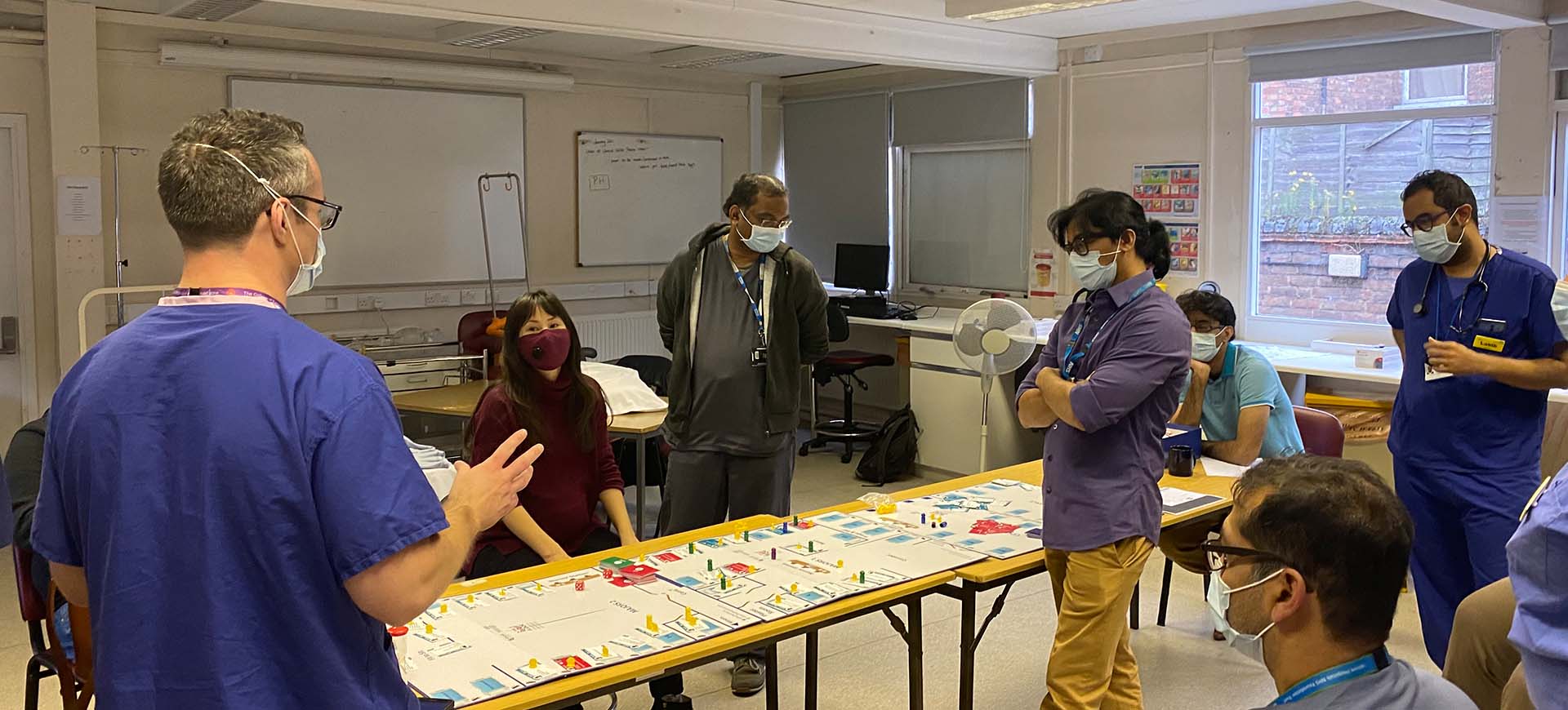 Dr Salwa Malik - inventor of THE FLOOR:
About Salwa
Dr Salwa Malik is an Emergency Medicine Consultant and the Emergency Department Simulation Lead at University Hospitals Sussex NHS Foundation Trust. She studied Medicine at Imperial College School of Medicine and completed her Foundation training at Addenbrookes' and West Suffolk Hospital NHS Trust. She then completed her Emergency Medicine training in the Kent, Surrey and Sussex (KSS) Deanery.
Why did Salwa invent the game?
Simulation in healthcare has traditionally revolved around the "Sim Lab" – a controlled physical space where simulated interactions occur between clinicians and a patient, often in the form of a mannequin. While this offers high-fidelity simulation of isolated clinical scenarios, it is ill-suited to simulating the time-critical triaging, assessment and initial management of multiple patients at the same time – a daily occurrence in the Emergency Department, (ED).
As a registrar in 2015, Salwa created an early version of The Floor to help with a Mock Major Incident day she was organising for her Higher Specialist Trainees, (HSTs). It was based on the actual floor plans of Royal Sussex County Hospital Emergency Department. Recognising the intervention's potential as a training tool. Salwa developed it as a board game – adding dice, coin tosses, funny sounds, lifeline and spin cards, to add to the chaos, pressure and enjoyment.
Got some queries about THE FLOOR?
Please complete this form and we will get in touch.